The first of the limited editions I'd long long long ago promised for Red Lemonade is finally coming to fruition.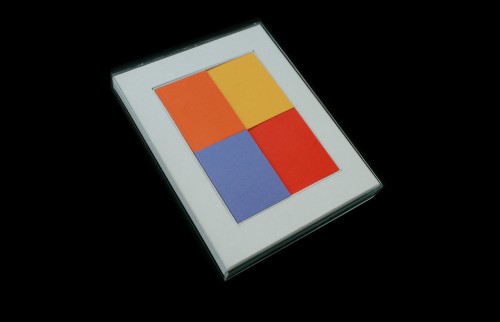 The first, an artist's edition of Lynne Tillman's Someday This Will be Funny, is created by Jim Hodges, chair of the Sculpture department at Yale University and subject of a major mid-career retrospective by the Walker Art Center and Dallas Museum of Art (yeah, gotta show off a little…) It consists of 21 individual books containing short fiction, including "That's How Wrong My Love Is," "Chartreuse," "Madame Realism's Conscience," and "Save Me from the Pious and the Vengeful."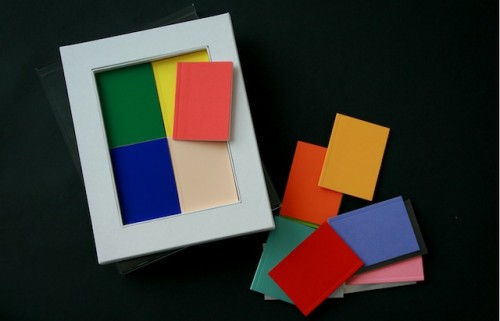 Each of the 21 books has a different color cover so the reader may rearrange the 2×2 book grid in the 18″ x 24″ display case to present a different four-color image. To aid in presentation the display case is sheathed in plexiglass. Jim Hodges's artist edition of Tillman's short story collection thereby tests the boundaries of the bound book by unpacking and repackaging it and freeing the reader-cum-viewer to do the same, offering a shifting, kaleidoscopic grid of color as one possible incarnation, one moment in the interplay of text and image.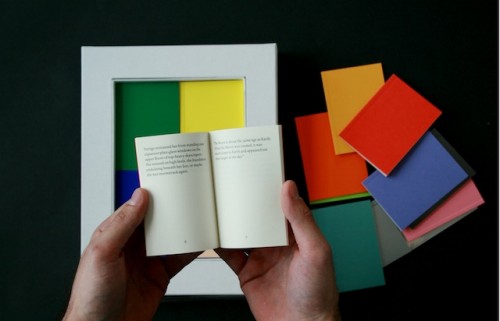 Here's a slideshow that gives you a sense of it and you can avail of our generous pre-order discount here.
---